IFC antenna achieves 'breakthrough' for the duration of Airbus flight checks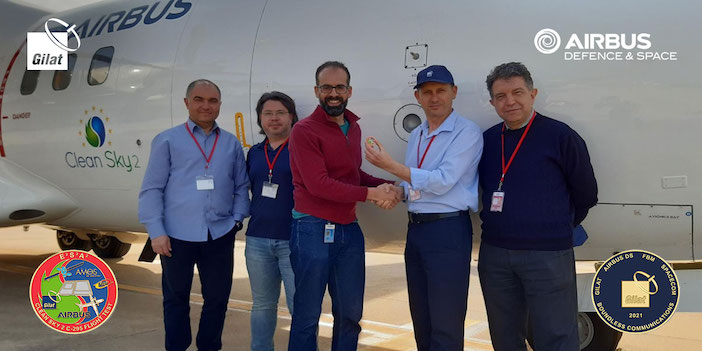 Adhering to success from flight checks done by Airbus Defence and House, Gilat Satellite Networks, an Israel-primarily based expert in satellite networking technological innovation, announced it has realized "a breakthrough" in electronically steerable antenna (ESA) technological know-how for inflight connectivity (IFC).
')
// –>
The Amos-17 satellite was made use of with a steerable beam pointed to the flight area in southern Spain, and cross-joined to a set beam serving the SkyEdge II-c Hub. The summary of the flight assessments, with the connectivity capacity demonstrated on Spacecom's AMOS-17 state-of-the-art electronic Ka band satellite, marks the thriving completion of the remaining section of the 5-yr Clean up Sky 2 IFC ESA venture.
Clean up Sky 2 is a European research programme developing progressive technology aimed at lowering the CO2, gasoline emissions and noise amounts made by aircraft. Funded by the EU's Horizon 2020 programme, the Clear Sky 2 investigation and innovation job aims to lead to strengthening European aero-industry collaboration, global leadership and competitiveness.
Gilat claims its ESA technological innovation, running with Gilat's SkyEdge II-c system and Taurus aero MODMAN, is now proven to be at the forefront of the up coming generation of the ESA IFC marketplace. The ESA in problem is a flat antenna that is completely integrated and validated on the Airbus C295 Flight Examination Mattress 2, an inflight demonstrator of the Thoroughly clean Sky 2 programme.
"Gilat's ESA shown a superior level of robustness through the test flights, preserving a steady backlink through fairly aggressive manoeuvres of the aircraft, and more than-obtaining effectiveness anticipations," reported Luis Benitez, chief engineer of Clean up Sky 2 Regional FTB2 at Airbus. "Gilat's ESA, conformally integrated inside of the wing-to-fuselage fairing of the plane with no incorporating aerodynamic drag, supports a extra effective, quieter, and more state-of-the-art plane for a broad wide variety of programs."
"The thriving flight-take a look at of our totally built-in ESA know-how was completed in collaboration with our extended-standing companions FBM, Airbus, and Spacecom, environment the standard for future technology of SATCOM methods for IFC," included Alex Volodarsky, director of SatCom On-the-Go Systems at Gilat. "We have proven our ability to develop and produce condition-of-the-art ESA technologies operating with Taurus, our globally deployed aero MODMAN, that adheres to the most stringent specifications of the aerospace market. We anticipate our ESA know-how to be greatly adopted in the IFC market place in the coming many years, specifically in perspective of various NGSO constellation deployment plans."