A food tour of Jasper's newest restaurants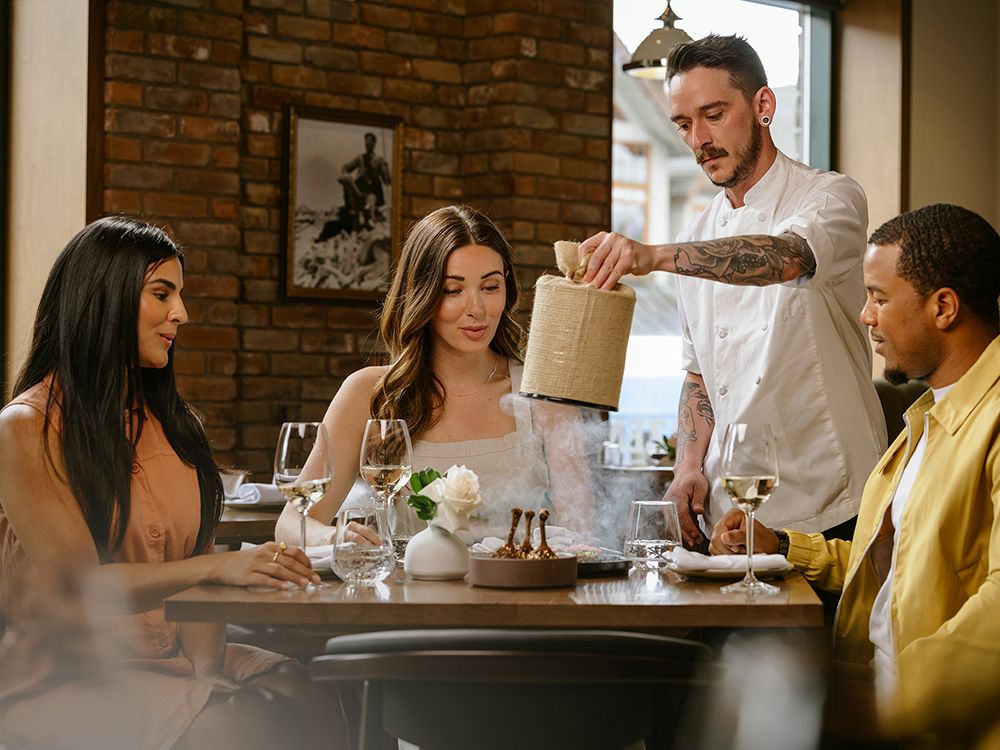 Where only a bear sighting can pause dinner
Reviews and recommendations are unbiased and products are independently selected. Postmedia may earn an affiliate commission from purchases made through links on this page.
Article content
Situated 1,000 metres above sea level and surrounded by mountains and glaciers, Jasper has long been known for its breathtaking scenery, but it may soon have a reputation for elevated cuisine as well.
In 2019, Banff Jasper Pursuit Collection acquired controlling interest in Mountain Park Lodges. Since the acquisition, Pursuit has been sprucing up the properties with a new coat of paint here, a rebuild there, and a revamp of the culinary offerings. I along with a group of food and travel writers were invited to check out the progress and sample the menus.
Article content
We visited five restaurants, including one in Banff, in 48 hours. Before we get to those however, respect must be paid to what has made Jasper National Park an international bucket-list attraction.
For the uninitiated — i.e., me — the three hours on the highway from Banff to Jasper (Highway 1 then Highway 93) were a revelation. The drive took us along the Icefields Parkway, past glacial lakes and rivers, towering mountain peaks, great swathes of pines, and cliff-face waterfalls. It's no wonder that National Geographic called "these 181 dramatic miles of Alberta… one of the most spectacular drives in the world."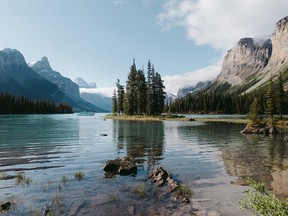 Nearing Jasper, we saw a black bear cub by the side of the highway, elk grazing on the outskirts of town, and big-horn sheep gathered on the bank of the Athabasca River on nearby Old Fort Point Road.
The town itself is a narrow strip of low-slung buildings stretching north-to-south between railway tracks and, to the west, the 2,763-metre-high Pyramid Mountain.
Our hotel, the Forest Park Hotel, was at the north end of the strip. Newly built by our hosts it boasts a high-ceilinged lobby that features a taxidermized wolf and wolverine. Just a few minutes' walk from the hotel, or anywhere in town for that matter, are the foothills of Pyramid Mountain. On our first morning, I hiked a kilometre or so up the Pyramid Bench trail for a view of the town while keeping one eye on the surrounding bush. It was elk-calving season, after all.
Article content
Culinary Offerings
There's no end of options for your food dollar in Banff, where the rooftop patio rules, but Brazen at the Mount Royal Hotel — just a few steps above ground-level, has a must try —  a dessert in an ashtray.
The crème brulée comes complete with two white chocolate cigarettes and Oreo cookie crumble to give it an ashy look and yes, it's delicious. Other selections include a watermelon basil margarita, broccolini blueberry salad, and ginger beef flambéed table-side. Brazen is good enough to attract diners like Shane Chartrand, a celebrity chef in Alberta known for his Indigenous cooking.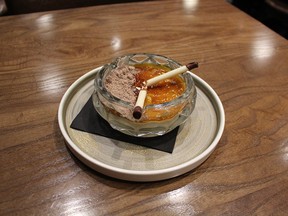 Brazen was also the first time I encountered the Shaft. A Calgary cocktail invented circa 2000, it's an unholy combination of espresso and sweet liqueurs. I didn't have one that night, but I did the following evening in Jasper, at Terra.
Located in The Crimson hotel, Terra has a modern design with rustic touches. Offerings include the Fitz, a whiskey-based cocktail named after the town's original moniker, Fitzhugh.
Among the dishes, which included a mushroom parfait, charred asparagus, and salmon sourced from Kuterra in Port McNeil, the miso butter served with the house sourdough prompted the most oohs and aahs from our table.
Article content
Breakfast the next day was at Papa George's, a local landmark in the Astoria Hotel. The cozy, family-style restaurant serves hearty fare and a few signature dishes, like the banana bread French toast.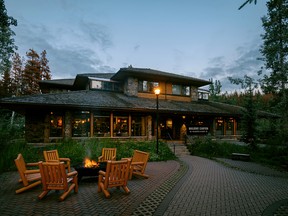 That, and the log-cabin look and meat-first aesthetic of lunch at Maligne Canyon Wilderness Kitchen, brought us back to earth. The specialties of Wilderness Kitchen are smoked everything and downhome sides (creamed corn, mac-and-cheese, housemade kettle chips) with artisanal touches like a wild onion dip. By the time we staggered out we worried that we would be too full for our dinner that night.
Professionals that we are, though, we persevered.
Aalto is part of Pursuit's "reimagining" of Pyramid Lake Lodge. The lodge is on the shore of Pyramid Lake, six kilometres north of Jasper, and the restaurant's new design takes full advantage of the view with large windows opening out onto the lake and mountains.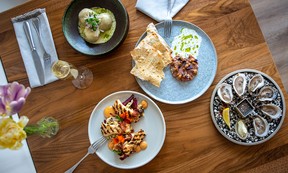 Aalto's theme is Nordic-inspired, with regional Canadian fare. A land-and-sea board includes caviar, duck, smoked oysters, and a gouda from Quebec. We also sampled Kennebec dumplings, sablefish from Kyuquot Sound, and Alberta beef.
Dinner came to a temporary halt when a couple of black bears were spotted not far away, and some of us rushed out to see – this is Jasper, after all.